Sleeping under a bridge while the cars race by above you. Camping in a ragged tent behind bushes. Cor van Herpen from Rotterdam has seen a great many terrible situations of homelessness in the 24 years that he has worked with The Salvation Army. And yet, with every new day, Cor invests his energy in helping those on the edges of society.
With rolled up Sleeves, never giving up
"Due to my religious beliefs, I gladly commit myself to the vulnerable in our society", Cor states. "I truly believe in the ability of people to bounce back. That people can change. Sometimes, it is a question of trial and error, for example, to beat an addiction after 20 tries. It makes me happy to see people slowly but surely get better. And when they are grateful for our help, that is even more satisfying."
Cor is head of the facilities that The Salvation Army runs at several locations in the Rotterdam region. He also spends some hours as a worker on the streets. The Rotterdam chapter has, among other things, a RIBW (Regional Facility for Protected Living) as well as a special refuge for women who are the victims of debt or domestic violence. In this big harbor city, there are also four shelters for the night; these are presently open 24/7 due to the corona crisis.
Trust is the start
When working in the streets, Cor walks around these accommodations. "I approach 'our guys' in the neighborhood when I see them causing trouble. For example, walking around with beer or with drugs. In 99 out of 100 times, it all happens in an amiable way."
"It is always slightly stressful how a new contact will react to our approach: if they are open to accepting help."
For Salvation Army street workers, the first step is always building trust. Only then can questions be asked concerning the physical and/or mental health of someone who is homeless. Then these workers can explain that a nurse or a doctor can become involved through The Salvation Army. "It is always slightly stressful how a new contact will react to our approach: if they are open to accepting help."
No one needs to fall between the cracks
Cor adds that there are several organizations in Rotterdam who offer help and accommodations. They all have their own expertise. "Once in a while, for example, we will see some homeless from MOE countries, people from the former Soviet Union, from Poland or Latvia."
Cor explains that The Salvation Army does not accommodate these individuals. "We, of course, don't just leave them stranded. Our colleagues offer them some coffee and a blanket and start a dialogue to get them in touch with the right organization for them. No one in Rotterdam needs to fall between the cracks."
Getting energy from the soup truck
The majority of the homeless that Cor has helped in past years are hampered by debt and an addiction. He has seen people deteriorate quickly after losing a job, getting a divorce, or suffering from the death of a loved one. For these individuals, The Salvation Army has the soup truck. The homeless can get some coffee, soup, and some sandwiches there. "Also, some socks, underwear and a blanket."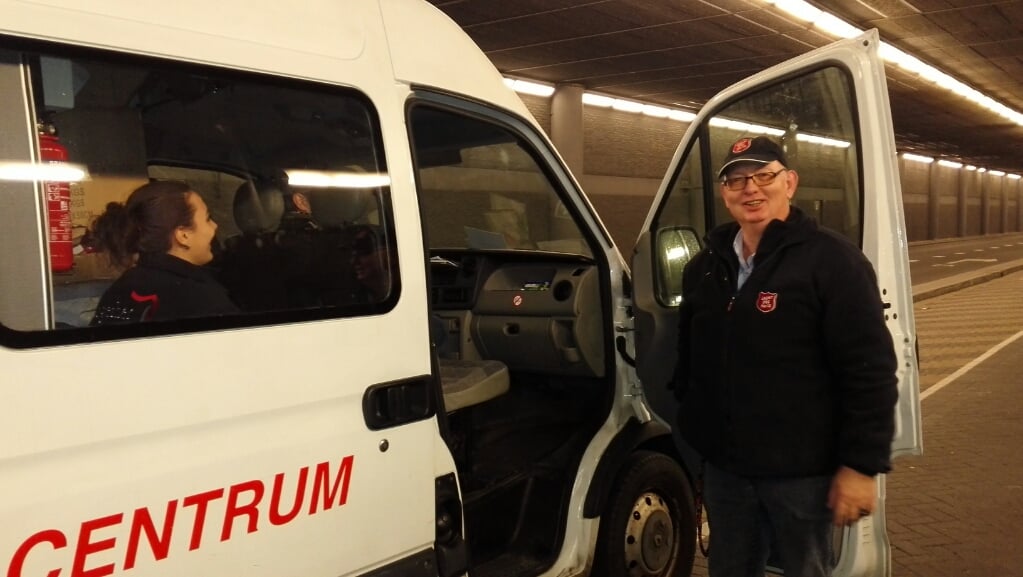 Shelterbags are comforting
"For some years now, we have been working with the Sheltersuit Foundation. In the past, we have been given 60 Sheltersuits." Cor adds that the supply for the coming winter is now limited.
Sheltersuit Foundation donated 120 Shelterbags to the Rotterdam Salvation Army this past July. These 'summer suits' are very important to the organization. "With the Shelterbags, we can offer some comfort. They are also important in building a trusting relationship, the first important step towards recovery."