"These are strange times," says Manuela Blaswich of SMO Breda. Together with her colleague Hans, she is with homeless people on the street on a daily basis. Where she sees familiar faces, but also many new ones. "Because of the corona crisis, more people are now forced to sleep on the street. So the 20 Sheltersuits can be very valuable on an uncomfortably cold April night."
SMO stands for Social Relief Foundation and the organization focuses on providing services for people experiencing homelessness. They provide temporary shelter, and also have a housing facility for people who struggle with addiction and chronic mental health issues.
It's all about maintaining contact on the street
"As a street team, we take care of people who stay outside. It concerns homeless people who are not yet ready for guidance, in any form whatsoever." Manuela and Hans are currently driving around to provide this group with a cup of coffee and a sandwich. This is urgently needed, because homeless people have nowhere to turn during the corona lockdown.
"Our work revolves around establishing and maintaining contact, in order to enter into a dialogue in an accessible way. Homeless people know that they can always fall back on the street team, even if they have participated in an activity or program, but have dropped out. With other programs they are forced to make commitments which can be daunting, but if it fails they feel comfortable to keep in touch with us."
"Wonderfully warm in the Sheltersuit"
There's a man experiencing homelessness, a real lone wolf, living in the rural area around Breda. "Really the type of primal survivor," says Manuela. He recently stated that he is struggling to get enough food. "We then brought him a meal and as a surprise we brought a Sheltersuit. The question was whether he would accept the suit."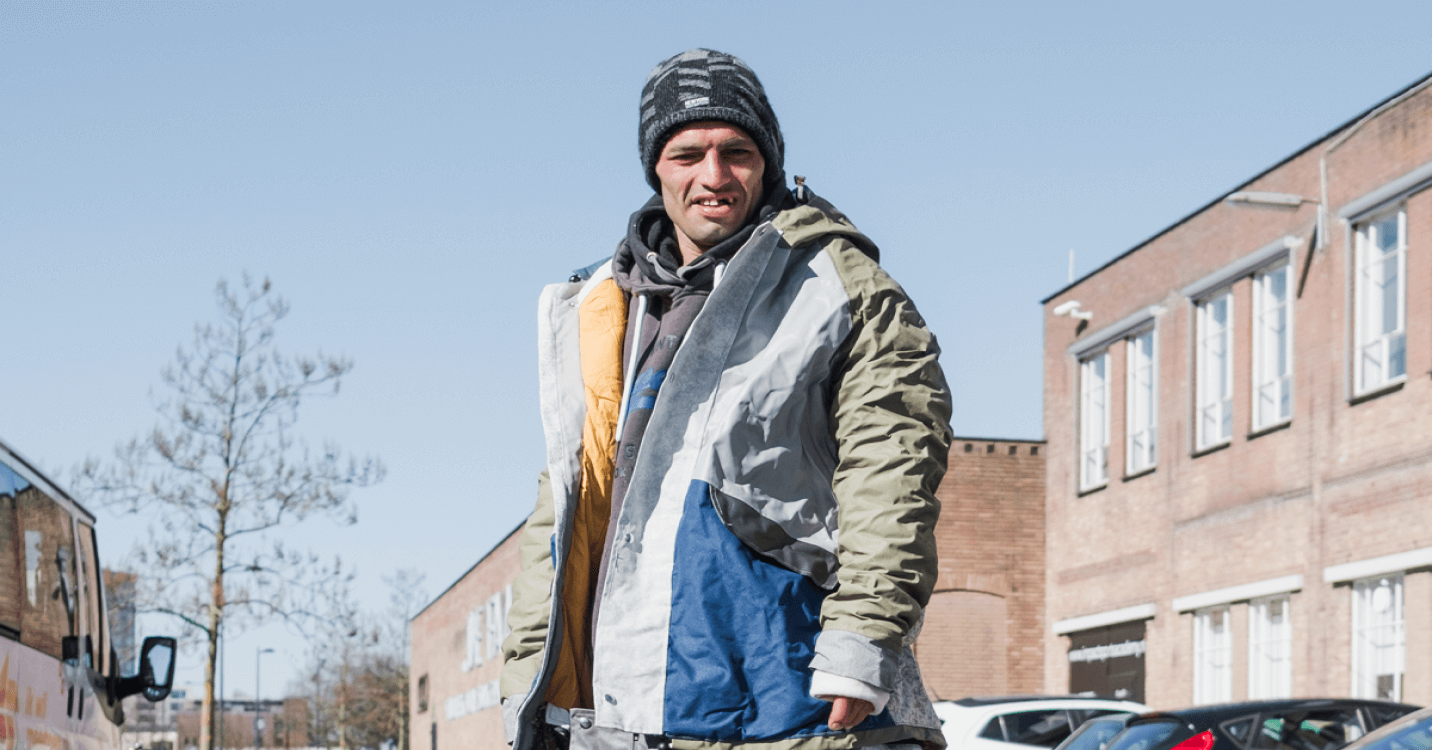 Fortunately, he has accepted the "gift" and afterwards this lone wolf has repeatedly indicated to the street team that he is happy with his new companion. His words were "wonderfully warm" according to Manuela. The SMO employee indicated that not everyone adopts a Sheltersuit. "Homeless people often don't want to be a burden to anyone and they always know someone who can use such a stroke of luck better. We sometimes fail to convince someone of the contrary, that they too are entitled to a suit."
Keep an eye on the human measure
Manuela has now been working at SMO Breda for three years. She previously worked at ICT, until she went through a burn out. A long recovery process followed and from that moment on she has always followed her heart. "I completed an SPH course with experiential expertise and then I started working at GGZ."
At one point she saw the "street team vacancy" at SMO. She responded and a day later she had a new job. "This work suits me perfectly. Sometimes I talk to a homeless person for 10 minutes, but I talk to another person for 2 hours if necessary."
The human dimension is therefore very important at SMO. "We are very happy with the Sheltersuits," says Manuela. "We have a few suits left and we make sure that they end up with the right people."