Today, October 10, is World Homeless Day. A special day on which we reach out to the vulnerable homeless people. Lyn Brandon-Podd is director of Sheltersuit South Africa. She talks about several initiatives that have been launched to combat homelessness in her country.

Homelessness is a major problem in South Africa. According to Unicef ​​more than 45% of the population lives below the poverty line. For children, that percentage is even 63%. Many people have to make ends meet with 1 dollar a day. "For that reason I help small business owners, who live just above subsistence level, with special business training. After all, those who are successful can support their family and help develop their community."
Where did you sleep last night
"One day I was struck by the sight of begging people. Someone was holding a cardboard sign that said "I don't want to steal. Help me!" Lyn tried to imagine what it must be like to scrape your food like this, day after day. What does such a life do to a person's psyche? She then decided to make poster boards with positive messages such as "The sky is blue, roses are red, I am blue, I have no bed". She wanted to take to the streets with the homeless to draw attention to their dire situation.

"When push came to shove, I didn't dare. I eventually gave the boards to a friend who works with the homeless." Lyn is pleased that with the slogan "Where did you sleep last night." The Sheltersuit Foundation is positively drawing attention to the plight of vulnerable homeless people around the world. "It is as if I looked into a crystal ball at the time. At Sheltersuit I have the opportunity to work for the homeless. You bet I'll take action now! I have long since thrown off that hesitation."
Inkathalo Conversations
She therefore also consults with the government, to be precise the Department of Social Development. She is calling on everyone to join the Sheltersuit movement. You can help in many ways. Those who have the financial means can of course become a regular donor. Setting up a fundraiser yourself is another option.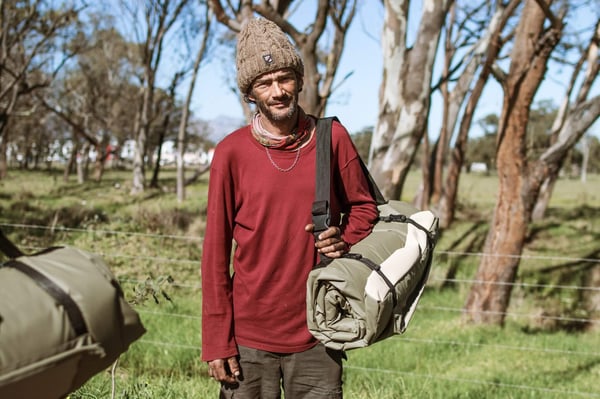 "Take the Inkathalo Conversations in South Africa as an example. A wonderful initiative that draws attention to the enormous homeless problem in Cape Town". The word "Inkathalo" comes from Xhosa and refers to showing great concern for someone who is crying. The word stimulates action because you are touched by the suffering of another. "This is exactly how we ask you to take action on '10/10'. To show solidarity with vulnerable homeless people."
"Focus" of the Salesians Institute Youth Project
Lyn says she recently had a special meeting with Abraham. His nickname is Focus. He was homeless for years, but with the help of others, he has turned his life around for the better. Today, Focus works at the Salesians Institute Youth Project. There he helps street children aged 16 & up to improve their living conditions. Abraham always says "Stay Focused" to his pupils. He owes his nickname to that cry. SIYP is part of the Salesian Mission. "This is an organization that is further committed to reducing illiteracy and improving the math skills of the poorest."

Will you stay on the sidelines or will you also take action?