South Africa, the land of Nelson Mandela, Table Mountain and Kruger National Park. A country that, despite its beauty, is plagued by poverty. Did you know that in Cape Town around 7,700 people lead a life out on the streets? We would like to help those vulnerable individuals by equipping them with a specially developed Shelterbag. The units are produced in The Ark City of Refuge, a homeless shelter that currently provides a temporary home and general assistance to more than one thousand homeless persons.
Special Shelterbags
Shelterbags are Sheltersuits that are a better fit for the warm South African climate. They are water- and windproof and thanks to an optimal ventilation, the person wearing the suit will not be at risk of overheating. Additionally, the Shelterbag is lightweight, can be rolled up in seconds and is easily carried along. The suits also contain a compartment in which personal items can be stored, a built-in pillow, and additional space for padding in the bottom of the sleeping bag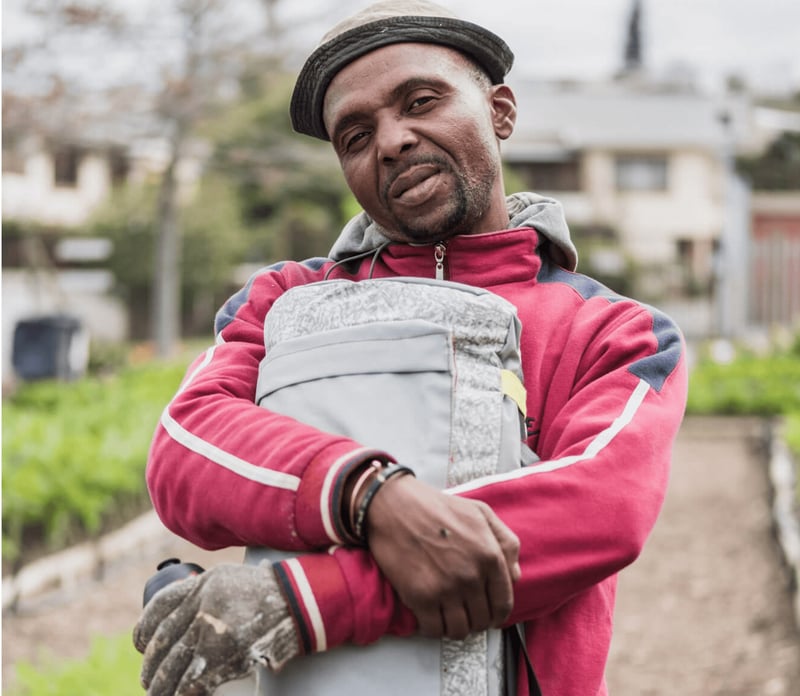 Estie at House of Hope's Community Garden
Training in Skills Centre
The units are manufactured in the first of its kind social factory in Faure, a suburb of Cape Town. This is where The Ark is located. It is a temporary shelter for men, women, youth, and children that were once homeless, that focuses on reintegration into society. Additionally, The Ark offers aid in terms of education, work, and psychological assistance.
In The Ark we find the Skills Centre, which offers young men and women the opportunity to learn a trade that will make them self-sufficient once they move on from The Ark. In the Skills Centre's sewing workshop, women and youngsters manufacture Shelterbags. The workshop currently provides full time work to 7 employees! Of course, the necessary materials are locally sourced.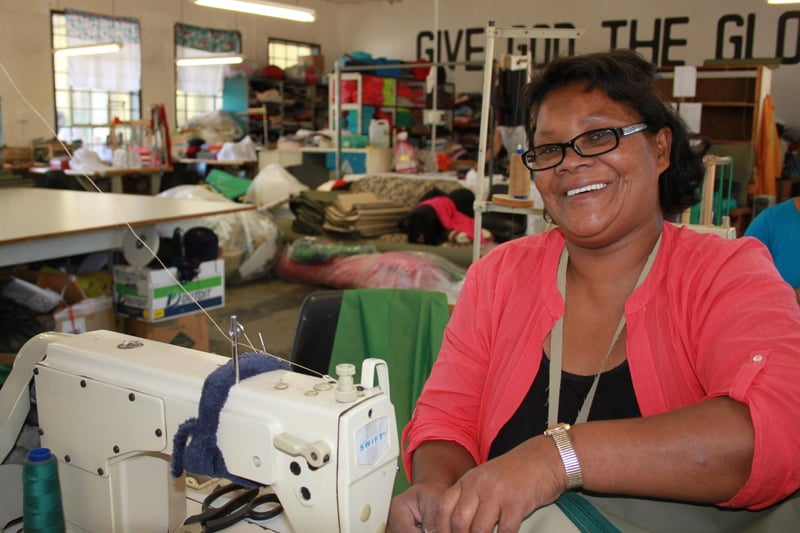 Dorothy, one of the seamstresses in the production facility

The new South African factory offers multiple advantages:
- We create jobs;
- Protection of homeless persons who are without alternative solutions;
- We promote sustainability by reusing by-products;
- We combat pollution from 'homeless blankets'.
'Homeless blankets' are distributed around South Africa among people living on the streets. In time they simply end up strewn about around the city. The Shelterbag is a way of curtailing this form of littering.
Bas explains the Shelterbag at TLC Outreach: a community based project, rehabilitating the lives of children living on the streets because of abuse, addiction and extreme poverty.
Social Factory promotion
Bas Timmer will be presenting and promoting the new South African project at the Design Indaba Conference and Festival. The conference will take place in Cape Town and is hosted by Design Indaba. Their motto: "We inspire and empower people to create a better future through design and creativity." And that is precisely why the organization placed an order of 250 Shelterbags, which will be handed over to various local foundations operating in South Africa, following the conference.
These local homeless shelters and NGO's all have different programs and since they are most familiar with the people living out on the streets, they will make sure the Shelterbags get to the people that need them most. This will make the Shelterbag into a tool that will establish a bridge between the homeless population and social workers from various organizations. It will allow Aid workers to gain the trust of these vulnerable people out on the streets.
"All we want is to help the homeless in South Africa! But there are many tens of thousands of them."
We would love to get in touch with companies and organizations around South Africa who could help us expand our activities. Bas: "All we want is to help the homeless in South Africa! But there are many tens of thousands of them."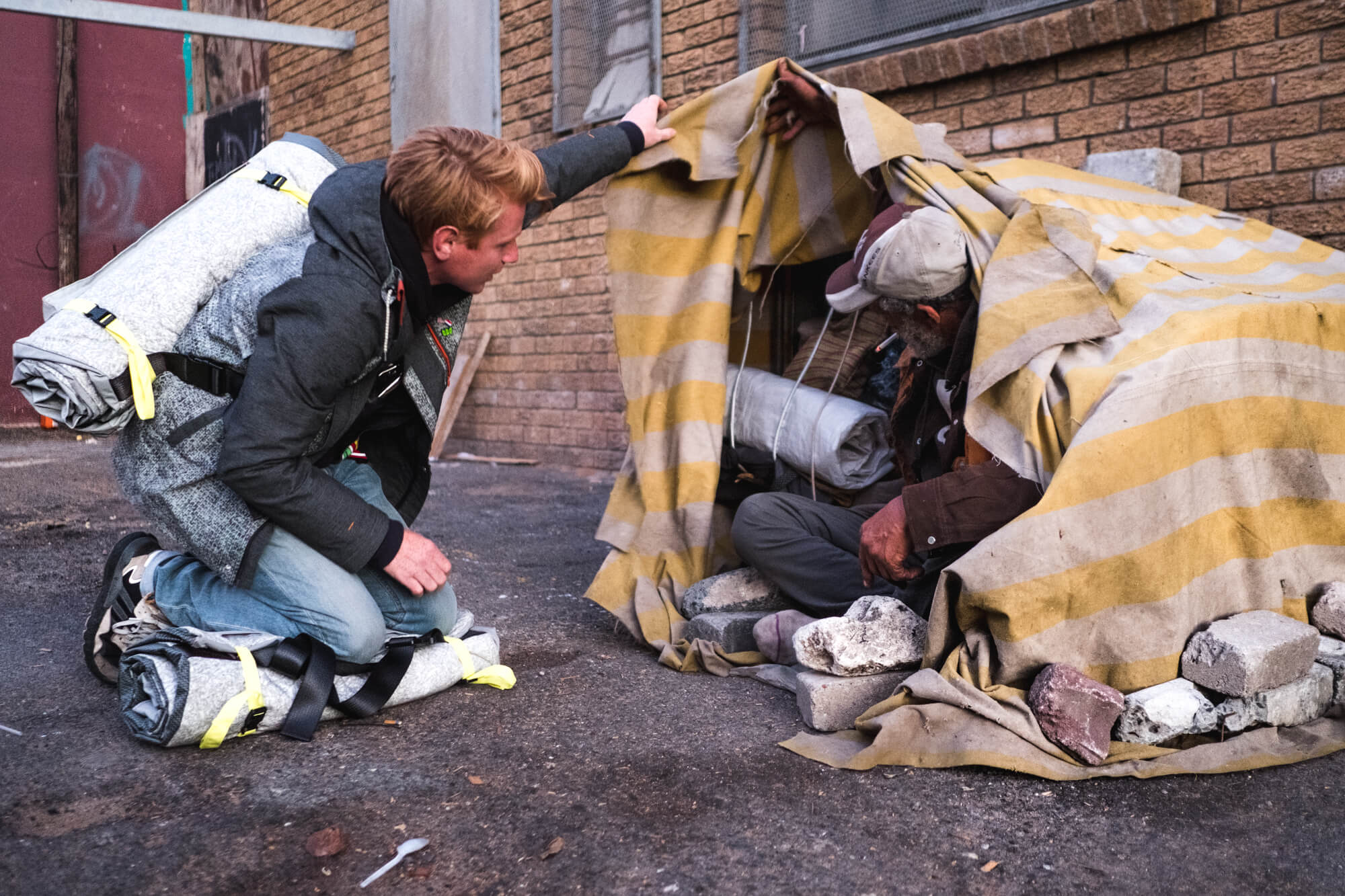 Wayne in Woodstock District received his first Shelterbag.
"We'd like to extend a special Thank You to Chris, Aat, Ton, Lyn, and Ken from the Helderberg Sunrise Rotary Club, for their endless efforts in making Sheltersuit South Africa a success."
Follow Sheltersuit South Africa to stay up to date about our South Africa ventures!