No one should be ignored: that is the clear motto of 'De Binnenvest'. This foundation offers social support, (out house) guidance and shelter in the City of Leiden and its surroundings. Marten Walen is a social worker at the foundation's 24/7 shelter in the city's center. He is very pleased with the 50 Shelterbags that were recently donated there.
De Binnenvest
Marten explains that the foundation offers all sorts of shelter and guidance to people experiencing problems with housing. These can vary from crisis shelter, to daytime and night temporary shelter, and to out-house guidance for youths. De Binnenvest is for the homeless in Leiden as well as in the surrounding region: Holland Rijnland.
Accommodations and hospitality
"We have room for more or less 70 people in the 24/7 shelter", Marten states. "We also have an extra unit that we use in winter for people not from the region and/or un-documented immigrants. An example is someone from Poland who loses his/her temporary job and is in danger of getting expelled from the system."

Marten also explains that there is room for another 23 clients in one of Leiden's neighborhoods. "We have divided up our homeless between several locations due to the corona crisis. That works really well. It is the good news from a bad time."

In the 24/7 shelter there are rooms where addicts can use alcohol as well as both soft and hard drugs. "We really had to fight for this within local politics as this provision is sensitive. The advantage it provides is that we now know how much alcohol and drugs abuse exists. It lowers the amount of hassle in the streets."
A dialogue
Marten's day usually begins with a transfer from colleagues from the night shift. "I then hear, for example, if a client left the shelter during the night. Anyone who leaves the facility between 11 p.m. and 7 a.m. is not allowed to return that same night."
Marten then reads the reports relevant to a number of his clients. Who is really hurting? Are there tensions between certain homeless individuals? "Then I do my so-called wake up rounds. Clients have to be out of their rooms and having breakfast by 9 a.m."
Following that, the medicines which De Binnenvest regulates are distributed to the clients. Then they have appointments with their social workers, their counselors and other contacts including debt regulators, addiction, and psychiatric counselors. Subsequently, it is time for the day activities."
Marten, in his own role, also initiates dialogues. How is someone feeling? Is there a need to contact a particular institution on a client's behalf? "Once in a while, you just cannot avoid taking what we term regulatory or corrective measures. I have to do that when someone gets out of line, for example, destroying interiors or being violent."
Such an escalation can even result in temporarily sending a client away. "In such an instance we give the culprit a Shelterbag. Then we know that the individual will at least be warm and comfortable while sleeping outside."
Marten continues and explains that at the start of every evening, a meal is shared communally. He is also responsible for registering all newcomers. "We have rooms for 2 and for 4 people. It is important to judge if the clients housed together are a match in terms of origin, religion, and addiction. At the moment and due to corona, we are using the double rooms for single occupancy."
Mini Society
The homeless welcomed into De Binnenvest are a colorful bunch. "Our 24/7 shelter is actually open to everyone. We have seen people who have been employed at universities, multinationals, even at the United Nations. And augmenting that group are homeless who grew up in working class neighborhoods and who have had barely any education."
"We have seen people who have been employed at universities, multinationals, even at the United Nations."
The birds within the shelter's walls are of very different feathers. One has a slight mental handicap, another a psychiatric challenge, and a third, an addiction. Often, clients have to deal with a combination of such problems.
From all these different types, a small society emerges of vulnerable individuals who are ready to help each other. "I see fellow sufferers helping one another every day. People are a lot more resilient than I used to believe. Sharing personal stories helps. That makes for recognition and consolation. De Binnenvest is more than a temporary place to live. It is a trusted spot where people can exchange their life's narrative."
Homeless due to 'life events'
People become homeless due to a lack of affordable housing, poverty, and unemployment. "Stressful 'life events', for example the death of a partner or a parent can disrupt someone who subsequently becomes homeless." And Marten believes that as society continues to harden, that too can play a part.
"Increased commercialization has destroyed the social safety-net to an extent. There used to be temporary shelter available to everyone. You could go there for a short 'reboot', to regain your balance. These days you need both a diagnosis as well as answers to a host of other criteria before you can get help. Half of all the people living in social housing in The Netherlands is awarded some kind of subsidy: this has a negative effect on their neighborhoods."
Marten does not see the homeless as second-class citizens or pitiful. "These people are often confronted with a mix of problems, but to a certain extent, many of the homeless choose their way of life at a certain point in their lives." Marten therefore thinks that you should deal with the homeless as you would anyone else: as an equal and with respect.
He has often heard from one of the experts from De Binnenvest who give lectures that frequently, people do not give any loose change to the homeless. Why? Because these people think that 'they will only buy beer or drugs with the cash.' "We feel that when you give money, you should let the receiver completely free in his choice of how he will spend it."
Outreachteam & Shelterbags
De Binnenvest coaches people slowly but surely in the direction of shelter and care. The organization does not accept letting people sleep outdoors. "As an interim measure or temporary support, we get into contact with a client and then give them a Shelterbag."
"As an interim measure or temporary support, we get into contact with a client and then give them a Shelterbag."
The outreach team goes around to contact clients in the region. They visit popular places to sleep for example, under overpasses and in moored boats. "When you sleep outside in the City of Leiden, you'll be fined 120 euro and asked to leave immediately."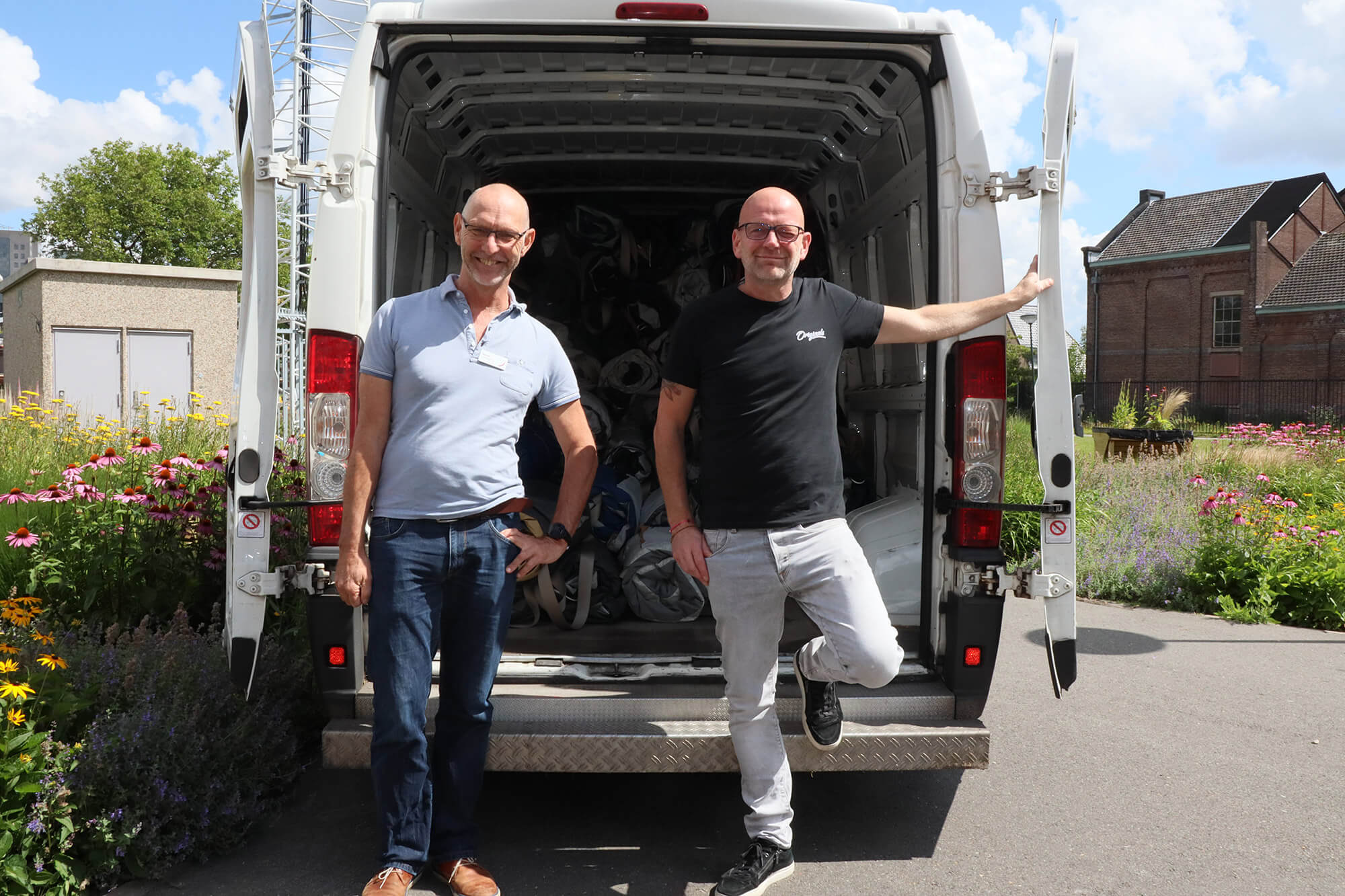 "There is a homeless Southern European coping with a war trauma walking around in our region. He chooses to survive outdoors, to be able to control his own life. My outreach team colleagues gave him a Shelterbag and he is really happy with it."
Marten further explains that De Binnenvest is very careful with the distribution of the bags. "We keep track with a list. Recently, two homeless returned their Shelterbags as they no longer needed them. Solidarity with other clients in need: a beautiful gesture!"