Volunteer Thera Seckel has spent two enjoyable years performing quality inspections at the Sheltersuit Foundation. In the sewing workshop, she would check felt bags and of course the Sheltersuits. "For this work you have to be precise," she says, "I know exactly where to find the weak spots in the Sheltersuits." Luckily, Thera is able to spot each and every possible defect. Every suit leaves the sewing workshop in perfect condition. Ready to provide warmth to someone living on the streets.
In the studio, Thera points to Delbrin, who is concentrating on his work behind his sewing machine. "Delbrin is an experienced worker. He has always been sewing jeans." A little later, Fadi walks by. The Syrian man is the head of the sewing workshop.
"Each of them is very talented. And they know their trade well!"
"Fadi is an incredible craftsman," says Thera, "In his native country, he was specialized in making evening wear for women." Behind yet another sewing machine is Linda, who in the past mainly sewed wedding dresses. "Each of them is very talented. And they know their trade well!"
The keen eye of a detective
Thera takes a Sheltersuit, spreads it out across a table, and then walks alongside it methodically. "The check always starts with the left armpit. Is the stitching done well? Are any threads sticking out? Then I run my eye down the sleeve." There, Thera turns the fabric inside out. "It is important to properly check that the lining is securely attached."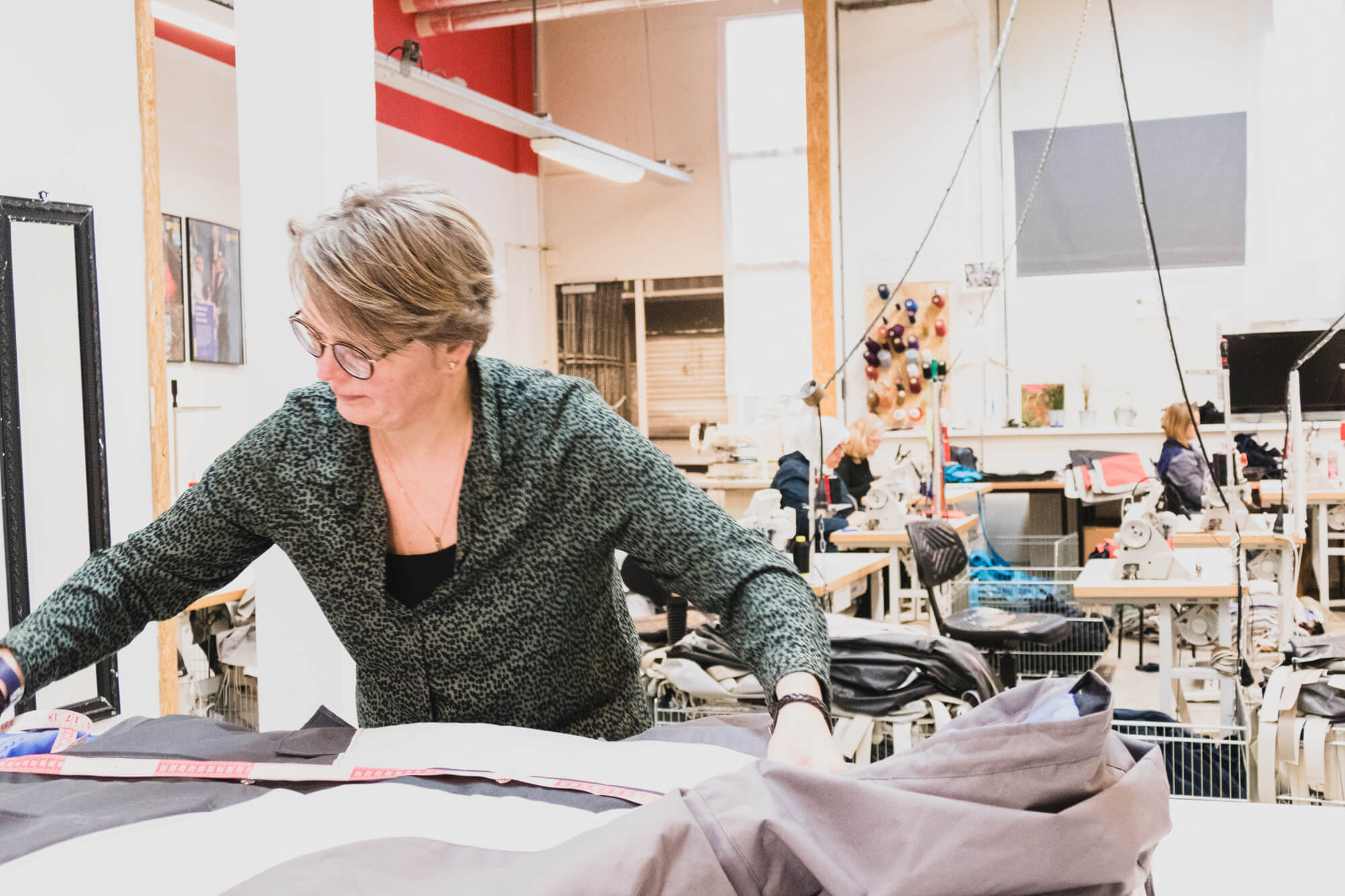 Attention to detail is very important. Thera performs the final check at the hood, after which she nods. "This suit has been approved. Now only the snap fasteners still have to be attached." With the measuring tape, she determines the positions for the buttons and marks them. "After this, my colleague George will apply the snap fasteners."
Thera-glue!
In addition to quality control, Thera performs several other tasks: she keeps stock, orders fabrics and makes coffee for everyone in the morning. "Sometimes I get behind the sewing machine to sew a turtleneck in a
jacket. I also approach hospitals to request their discarded duvets. We wash them here and then process them into new Sheltersuits. Thera describes herself as the glue of the organization. "Try to keep everything and everyone together."
Melting pot
She says she will miss the social aspect of her work. She often helped newcomers to the studio out when they had trouble communicating in Dutch. "Initially, communication sometimes takes place using hands and feet, but we always find a way."
"He only wanted to take orders from the head of the workshop,"
So, are there never any problems in this "melting pot?" Thera stares in the distance and remembers an employee who refused to accept an assignment from her. The reason? "He only wanted to take orders from the head of the workshop," says Thera laughing. "It had to do with a difference in culture and we talked it out."
Occasionally, a quarrel breaks out in the studio. Plenty of hand gesturing, and some raised voices and cries in Arabic. Then head of the workshop Fadi is urged to come. "I think those scenes are beautiful. I look from a distance and assess the problem." Thera says that she then approaches such a group and proposes a solution. Then the workers look up in awe. "Did you understand us? You don't speak Arabic, do you?"
Say goodbye with a tear and a smile
The time has come for Thera to say farewell to the sewing workshop. She and her family will be moving to the other side of the country. She has devoted her heart and soul to vulnerable homeless people and refugees. "It's good for us to occasionally focus on these communities. These are people who have little to nothing."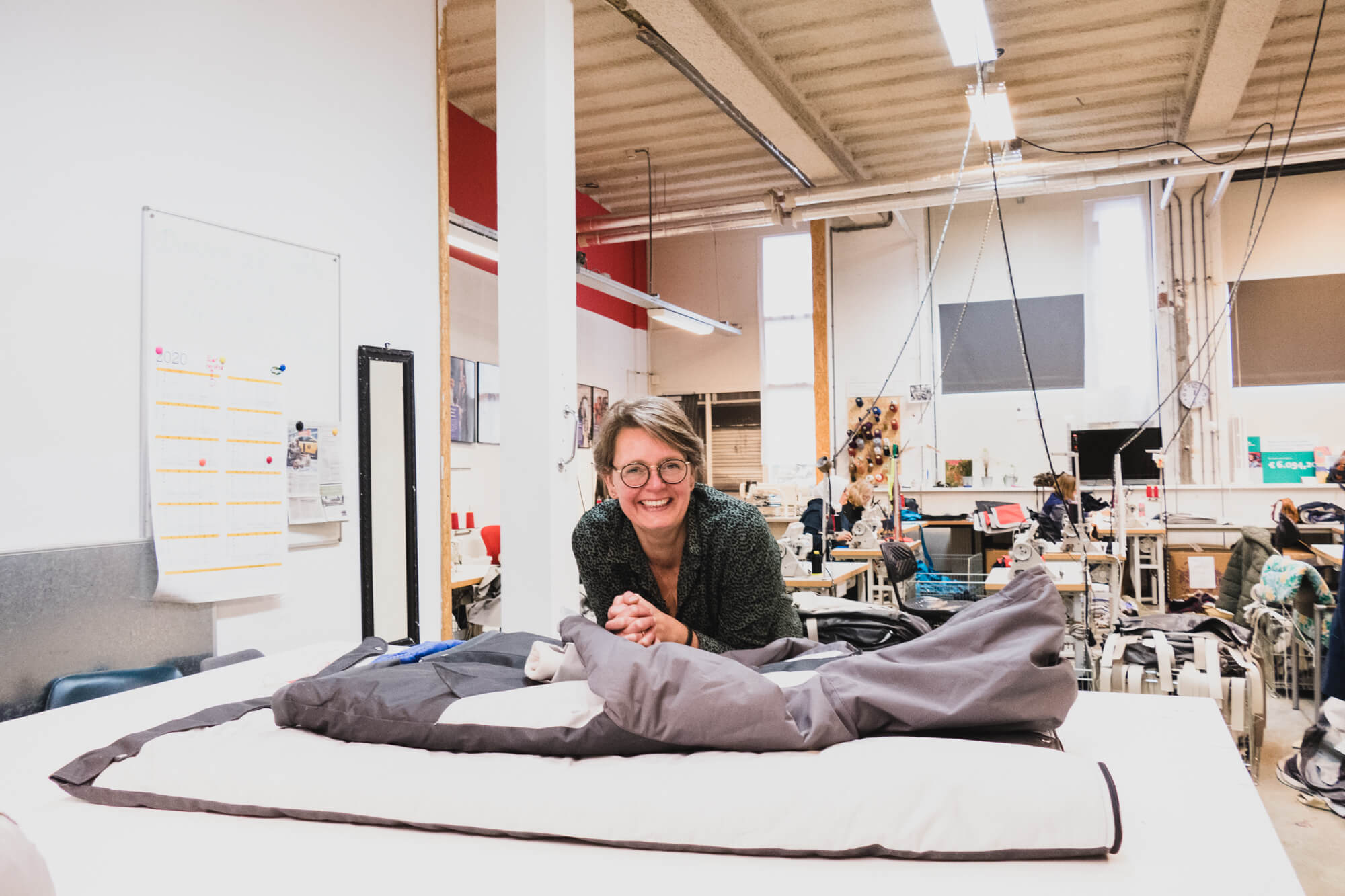 She will definitely miss her colleagues. "My life has forever been enriched by working for the Sheltersuit Foundation. It has warmed my heart. "She is convinced that something new will come her way. "There is important work to be done everywhere. Life really consists of more than just "me, myself and I."